I hope that many of you will take the time to read these few thoughts and even more of you will share them, forwarding them.
Once again, I would like to clarify in terms of oratory and epistolary precautions, that this is not to say that we should pollute more and burn all our oil or gas reserves as quickly as possible, just to increase our carbon footprint.
This is about denouncing a manipulation that you see being done under your eyes and that, in my opinion, is unhealthy, because it is also based on an objective that is also unhealthy.
It's consent extortion.
By setting ourselves up to hate the sun and the good weather, we will make summer a terrible time instead of a party.
3/4 of our population is depressed in winter with the lack of sun, heat and light.
From now on, they will also make you depressed in the summer and make good weather a terrible danger, a horrible time.
I'm terrified to hear my fellow citizens repeat "how hot, but it's terrible, but we're all going to die… haaaaa what a terrible suffering".
They just repeat like old broken records what they hear all day on the TV channels.
What I wanted to show you today is that they don't even hide from their manipulation anymore because they perfectly "own" what they are doing.
Ecology is not fiscal manipulation or social constraint!
No, no and again no, ecology is not forcing us to take the global warming pill to make us eat even more taxes or social restrictions with a bunch of new bans that will inevitably lead us to climate passages.
Ecology is the change and evolution of our consumption patterns towards things that are not even more sustainable, but simply more reasonable.
As long as I see millions of idiots going to sunbathe on the plane with tickets at 5 euros, ecology will make me laugh.
As long as I see millions of idiots buying avocados from Israel, pineapples from Costa Rica or mangos from Brazil, ecology will make me laugh softly.
As long as I see millions of idiots taking advantage of globalization by transferring pollution to Asia, ecology will make me vomit.
As I watch millions of assholes, especially young assholes, eruditely explaining to me as they step out of an air-conditioned Uber, an iPhone in one hand and a lithium-ion battery electric scooter in the other, tell me that 'they are suffering from climate anxiety I would react to restore balance to things and the rectitude of right thinking and good analysis.
I don't judge any of those millions of idiots, being myself an idiot like the others, neither better nor worse. Like everyone else, we are the product of our world and our time. I'm not judging, but I'm also not lying to myself about the sad reality of the manipulations we are subjected to, which are not intended to be good, not for us, not even for the planet, because if you want to do ecology, it's the productive system. based on mass consumption and mass production that must be changed.
Not the joy of good weather, the pleasure of eating in the open air, of offering ice cream to a child.
They don't realize that by messing everything up, screwing everything up, they're ruining everything for us.
💬 "We need to change the way we talk about it"

Mark Hay (@Marc_Hay_BFMTV) warns of abnormally high temperatures ⤵ pic.twitter.com/grbmY2yTPt

— BFMTV (@BFMTV) June 14, 2022
Or this article from Le Parisien.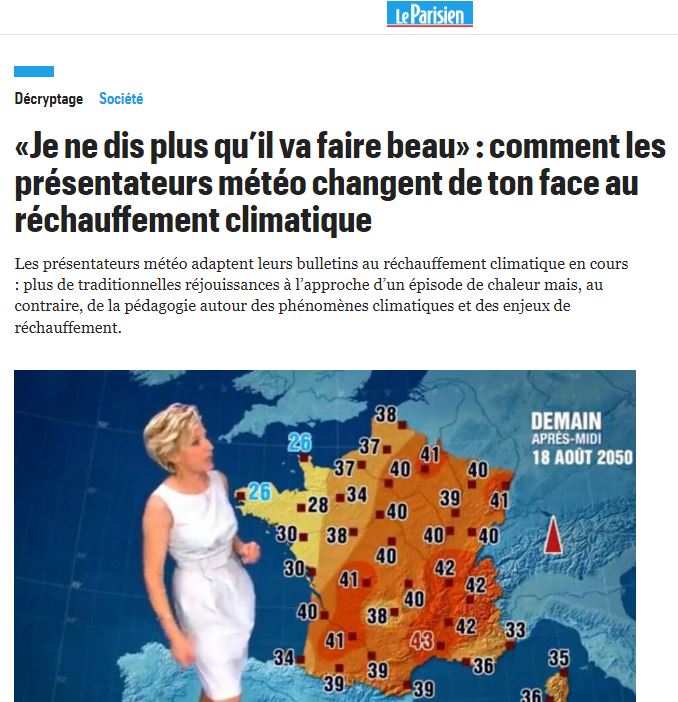 By rotting everything away, they will only make the population mindless screen scrubbers, depressants, and neurasthenic antidepressant eaters.
So yes, good weather is a party.
Go out.
Dance.
sing.
Eat good food outdoors.
Love life.
Let's love life.
And let's send these sad lords back to what they are.
Bad, evil, harmful people who, under the guise of the "common good", pursue cynical goals.
Don't be manipulated.
Good weather is great.
Summer is good.
What it takes is not hating summer and shorts, but buying a lot less shorts.
What is needed is to think and think a lot and again.
All the rest is nonsense and nonsense.
Carlos SANNAT
"This is a 'presslib' article, that is, free of total or partial reproduction, as long as this paragraph is reproduced next. Insolentiae.com is the site on which Charles Sannat expresses himself daily and offers a naughty and uncompromising analysis of economic news. Thanks for visiting my website. You can subscribe to the daily newsletter free of charge at www.insolentie.com. »
PS: be careful, it's hot. Remember to drink and walk in the shade!