Contents of this 59th edition:
A territorial focus:
Volunteering Skills in Vienna


The electricity grid operator Deux-Sèvres


The Poitiers-Lyon air link, an asset for companies


CAALE's third place in Aunis


The Community of the municipalities of Parthenay-Gâtine preparing a highlight for the beginning of the school year (30 September) around the agri-food sector and green energy in agriculture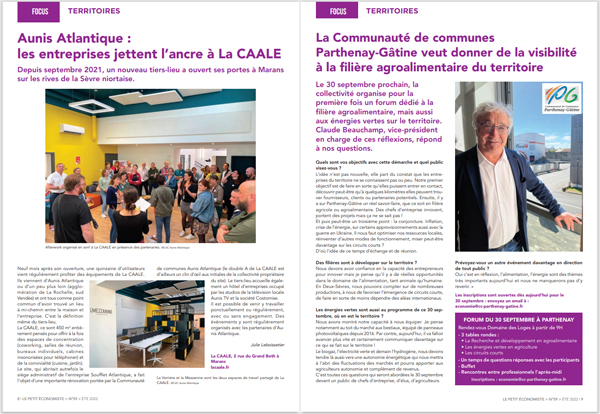 Local news:
Cerfrance Poitou-Charentes that supports companies in the "human relations" area


A reconversion for two on the Ile de Ré


Monkey Valley, a visit to our cousins ​​(on the cover)


Mullot encourages responsible mobility


Revision 2021 of the work-study program in Poitou-Charentes via the Court of Auditors


The challenge of Charrault poultry


14 years for the St-Sauvant wind project


Sustainable food at the heart of schools


The world's largest marina celebrates its half century
Expert view: Sophie Nivoix from the University of Poitiers gives us her analysis of the paradox of fair trade certification.
Our section Tomorrow the sea. Report on artisanal fishing, from Martinique to Charente-Maritime
Agenda and news:
A mini-company for a morning at Collège Mendes France in Parthenay


A Pâtures et papilles seal to promote organic and grassy agriculture


When Deux-Sèvres dive clubs train with firefighters


Call for projects Caisse d'Epargne Aquitaine Poitou Charentes inclusion of young people


New strategy and new walls for the Vienne CCI


Back to the beach back


Soliroots, an app that connects during nomadic travel


The Minimes day care center in La Rochelle received the eco-nursery seal


The Olympic flame will pass through Deux-Sèvres
Subscribe !
Keep up to date with local news and support 100% independent media, sign up: www.journalpetiteco.fr (15€ including taxes for 4 annual editions)
Buy this issue 59 of the magazine:
Price: €4.80 with VAT sent by post (offered) or by email in pdf (specify when ordering)
Read online on one platform
Our magazines are available on the platforms:
Caffeine: https://www.cafeyn.co/fr/publication/le-petit-economiste
ePress: https://www.epresse.fr/magazine/le-petit-economiste
Next post: October 2022


Information and reservation of vacancies: [email protected]

All our rates are here: ADVERTISING
---
also to find out
The consequences of the war in Ukraine on the economy of the Nouvelle-Aquitaine region
Soliroots, mutual aid for nomadic travelers
Competition "Chefs and members of the kitchen team of secondary schools in Nova Aquitaine", the (…)
---
Any message or comment?